PHOBLOGRAPHER
BEAUTY IN FOOD PHOTOGRAPHY
One of the biggest photography blogs made this interview with me in 2016
Introduction:
Photographer Anders Beier is an absolutely fantastic and inspirational food photographer that has been shooting for many years now.
READ THE FULL ARTICLE HERE
one of the best questions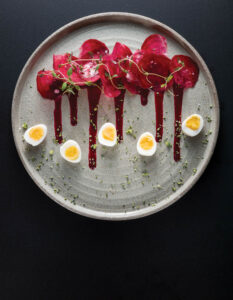 PHOBLOGRAPHER: A LOT OF YOUR WORK IS VERY REMINISCENT OF THE COUNTRYSIDE. DO YOU FEEL THAT LIVING ON AN ISOLATED ISLAND TENDS TO INFLUENCE THIS LOOK? WHERE DO YOU FEEL MOST OF YOUR INSPIRATION COMES FROM WHEN IT COMES TO FOOD PHOTOGRAPHY?
Anders: As a child I was "forced" to take trips around the island (100 km in diameter – 60 miles) each weekend with my parents and we as a family spend a lot of time fishing, walking, sailing, and using my imagination playing with rocks, sticks, and climbing trees, swimming, diving. So I have great memories in the nature. There comes a time where the island populated by 38.000 just is too small, I lived in Copenhagen for 10 years, and yes, party time, people, drinking beer with agency people, and always selling yourself got very tiresome for me.
So I really needed to get away – and a visit to the island where I met some creative people in the same position as me, we started an ad agency serving the local community with ads, films, photos. Then I grew and then serving the local wasn't enough, I knew I had the talent so I started reaching out, and that is hard from a remote island, REALLY hard. Now with hard work, and help from Agency Access (full service agency for photographers ) to build my portfolio things are really catching on. And most of all I have found my style, in cohering with Bornholm which is the name of the island.
So I do find inspiration here, and it sure does influence my work as a food photographer at the same time the food itself is also taken into consideration. In some ways it's the core of my style. Scandinavian chefs are doing great in world and on Bornholm there is rich traditions and great producers of food and Bornholm also just received a Michelin Star for one of the great restaurants here.